Organizing in Plain Sight
Organize by displaying your things instead of hiding them.
Have you heard of organizing in plain sight? It's a concept where you use your open spaces to organize your belongings. With this method you can have as much useful storage space as the square footage of your home itself. Amazing right?!
Consider displaying your belongings instead of trying to stash everything away and out of sight. This "display" method of organizing is something I use in my own home as well as client's homes. Organizing in plain sight is a great option if you lack storage space!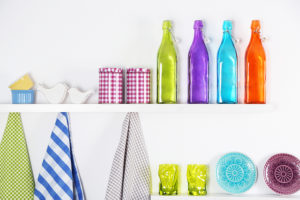 For instance, your kitchen is where you prepare and serve food after, so why not display your pots and pans on hooks above your stove or sink. Because I love my dishes and glasses, I display them on open shelves. I save the hidden cabinets for the appliances I don't use often and don't want on my limited counter space.
My neighbor has hung open shelving right across her kitchen windows at the sink. A lovely display of oils, porcelain serving pieces and colored glass adorn the shelves. We both have small homes with limited space and the need for creativity.
Susan lived in a very large home with a huge master bedroom, but very old, tight closets. We implemented this "out in the open" strategy. She purc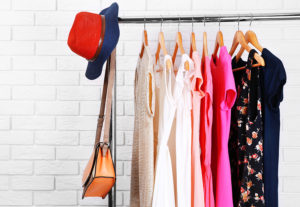 hased a decorative, but sturdy clothing rack from Ballard Designs (think Paris boutique), we moved her pretty clothing items right out of the closet and into sight. We kept the less attractive clothing items inside the closet. This left the garment rack filled with color and pattern and it became a decorative item in her bedroom!
By having the garment rack in the room, my client was forced to keep it neat and clutter free. We hung items by season and organized her colorful wardrobe by hue. The same can be done with a neutral wardrobe – black, white and gray look sophisticated together. Think of the way a boutique clothing store would display items.
Tracy had an amazing handbag collection and a bit of an obsession! Her husband could not stand the bags in the closet taking up shelf space and he didn't want them on display in the bedroom. We had to find an alternative location that was accessible, so she could use them. We turned to her office, where Tracy had a wall of built in, adjustable shelves.
Looking at all possibilities, we took stock of the books and magazines on the shelves. I suggested going through them and eliminating many to make space to display the handbags. Problem solved! Tracy found she only wanted to keep less than half of the books and magazines. This space gave the fabulous bags a headline location where they could be admired and enjoyed by Tracy; out of sight from her frustrated husband! It looked pretty cool, too! Like a Coach store. 🙂
Brooklyn resident and designer Matt Austin calls this method "artistic living through good design". It's true! Think about some of your favorite small shops and their displays. The often have small items mixed in with furniture, antiques and sometimes use found and natural objects for containers and displays. Sometimes this method can be purely by accident. I met a client on Saturday morning who had a really large glass jar with utensils and cooking gadgets in it on her kitchen counter. I complemented her on how neat it looked to have everything on display (basically the contents of a drawer in a vase). She laughed and said, "Oh, that's just stuff I need to wash more thoroughly, so I stuck it in there to get it out of the sink!".
If you want to try this method of organizing in plain sight, here are some ideas: Consider taking all of your cookie cutters and displaying them in a bowl during the holiday season. Every so often, change out the contents of the bowl, clearing clutter from your drawers and creating a unique display. Groupings of like items work well for these vignettes.
Try a simple way to display your bulk store purchase of bath tissue or paper towels. Take them out of the wrapper and put them on a shelf in a row or stacked. I put all of my bath tissue stacked in an antique chamber pot on the floor next to the commode. The paper towels are placed in a row on the bottom of my baker's rack in the open pantry. I simply don't have the cabinet or closet space to store these items out of sight and I don't want to look at the ugly plastic wrappers!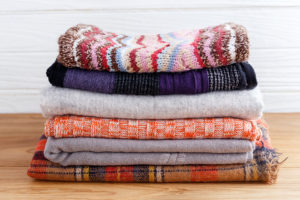 If you are lacking in linen closet space, stack your extra blankets neatly on an out-of-the-way chair. If you fold neatly and stack by color or weight, it will look like part of your décor. The same is true for towels. You can stack your towels on a small bench or stool right in the bathroom or roll them and put them in a basket.
My guest room has every single blanket, quilt and comforter that goes with the room ON the bed. In the winter, the comforter is on top with a duvet, and in the summer the lighter quilts are on top. The bed looks really inviting because of the poufy appearance – very "Princess and the Pea". Guests can peel away layers as they prefer.
Anything from a stack of books to layers of artwork on your floor, leaning on a wall or shelf is a nod to the artistic, casual look that makes a home unique and interesting. I have a chair that I love, but never sit in because of its' place in a corner, but it serves as an easel for a seasonal piece of artwork.
One of my longtime clients loves beauty and aesthetics surrounding her. Even her piles of to-do folders and papers will always have a decorative piece of paper or favorite image placed on top. She will place a simple item like a glass cabochon or paperweight on top of that. It makes her feel good to come into her office space and see something lovely instead of the pile of work to be done! She follows Elsie de Wolfe's mantra, "I'm going to make everything around me beautiful- that will be my life."
So, don't fret if you don't have the storage space of your dreams, try this display method of organizing and enjoy what you own. It may even inspire you to declutter the things you don't really need or love and keep only what you believe to be beautiful.