Get Organized Series: Armoire is for Organizing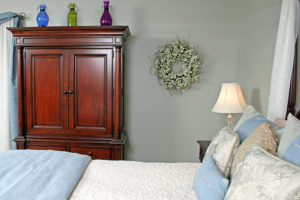 One of the most common and frustrating organizing challenges in many homes is the lack of closet space. Sure you can edit your things to a minimum, install a new closet system, move other items around to different places to make closet space, but what if you've already done that? If you live in a studio apartment or an old home and just don't have the closet space, what do you do?
One option is to simply create the space; have a contractor in to build out a portion of the wall so that you can make closet space in a room. Of course, if you rent, this is difficult, if not impossible; if your budget doesn't allow or you would compromise the aesthetic or greatly reduce the size of your space, this is not an option.
One of my favorite things to recommend to clients in this situation is the solution of a free standing piece of furniture – an armoire. There are countless ways to use this versatile piece of furniture and they come in many sizes and fit just about any budget.
History shows that people used armoires for storage of blankets and quilts, linens, silver or china serving pieces and clothing. Before the concept of a separate closet was built into a room, an armoire served as the primary large storage solution.
But these days, you don't have to settle for a dark, hulking primitive or Victorian style armoire. Furniture companies and home stores make armoires for every style and every budget.
Let me describe a few scenarios where an armoire was the best storage solution for my client.

Armoire Solution #1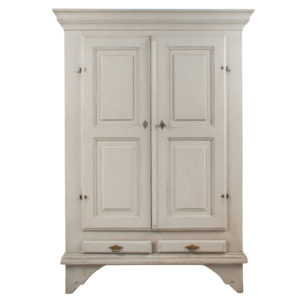 Jill's handbag collection: Jill lived in a Boston suburb and had ample closet space for everything except her large collection of handbags. There was no room for all of them in her clothing closet or the mudroom area. Since the hall landing outside of her master bedroom was a large, empty space, we thought an armoire would both fill up the cavernous hall and also provide a convenient place for the handbags as Jill would pass right by the armoire already dressed and ready to go out. She chose a tall, painted mahogany armoire in Gustavian design with 4 doors and 2 separate sections, all filled with shelves. The solution was perfect for both storage and design piece for the space. Nothing else ever seemed to look right in the space, so Jill had always just kept it empty. This piece cost $7,100 including delivery.
Armoire Solution #2
Nancy's office supply dilemma: Nancy, a Boston school teacher, needed a place to store office and school supplies out of sight. Since her condo was in an antique house, there were very few closet spaces to take away from valuable clothing storage space. Nancy thought filing cabinets and office furniture reminded her too much of an office and work! Our solution was to purchase a natural finish English pine armoire. Since the one she loved had only hanging space, we asked a handyman to install shelves using cabinet-grade wood for sturdy storage. Once we had nice, new shelves inside a lovely old armoire, we could fit printer paper, stationary, hole punchers, notebooks, journals and other office and schools supplies neatly behind closed doors. The cost for this particular armoire was $750 including the cost for the new shelves and the labor to install them.

Armoire Solution #3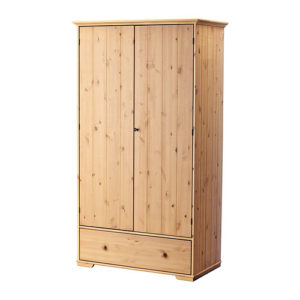 Lilah and Vivien's 3rd floor bedroom: The two girls moved into the family home's 3rd floor with lots of space, but no closet. Much of their clothing fit into separate dressers, but what to do with the girl's hanging clothes? The solution was matching, unfinished, spruce wood armoires from Ikea. Lilah and Vivien each got a separate armoire for their side of the room. The unfinished feature appealed to Mom since she could paint or stain based on the girl's favorite colors. These armoires cost $299 each.
Armoire Solution #4
Raj's cleaning supply conundrum: Raj is a Boston client living in a sleek, modern condo. Aesthetics were considered throughout his space, but lack of a utility closet left no place for cleaning supplies, paper products or tools. Organizing these items into any nook where he could jam them was frustrating to Raj. These items were scattered all over the condo and he could never find a simple screw driver when he needed it. Once again, the ever useful armoire was the answer. We had to look for just the right style given that the design in the space was minimalist and masculine. The armoire Raj's decorator found for him was in high-design, white, lacquer with nothing but inset door pulls. The piece fit in the hall adjacent from the kitchen. We opted for one half with shelving and one half without. On the shelves, we put cleaning solvents in a bucket caddy, paper towels, toilet tissue and Raj's tool box. On the other side, we installed hooks for the mop and broom and the small upright vacuum cleaner fit as well. The cost for this piece was $2,195 from the design center in Boston.
Armoire Solution #5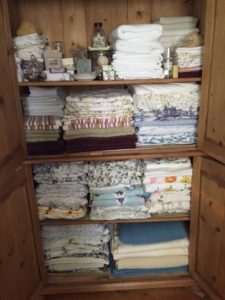 My own linen closet solution: My home is an antique with the master bedroom and master bath on the first floor. There is only one closet on the first floor; the clothing closest in the master bedroom, which gets full use for my wardrobe,  accessories and shoes. Since I had already added a hutch into the pantry for additional dry goods storage, I thought another free standing piece of furniture would solve the problem of the absence of a proper linen closet. I did consult a contractor about building in a multi-purpose closet in a large corner in the dining room, but the cost seemed unnecessary. Instead, I re-purposed an armoire that had been used in my previous house in the mudroom for storage of hats, gloves and other outerwear. Since those items were now in the bench with storage next to the door (yes, most furniture in my house serves a storage purpose!) I could use the armoire for linen storage. This is one of my favorite storage places in my house! It has two separate areas, one on top of the other with a total of 4 doors, 2 on 2. In the upper level, I keep towels, soaps and regular percale sheet sets. In the lower level, I store flannel sheet sets, blankets, duvet covers and a few table linens. It always smells nice inside because of the soap and it looks very pleasing! See for yourself. That's a picture of it.
So, chances are there is an armoire out there that will solve your storage issues!
Written by Kate Altieri, Lead Professional Organizer at Organizing Boston