7 Steps to Successfully Manage Large Organizing Projects
Project Management for Professional Organizers: 7 Steps to Successfully Manage Large Organizing Projects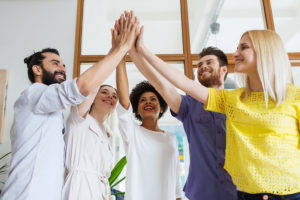 People look to professional organizers for their complex and multi layered projects. The idea of a daunting task may prompt them to reach out for help from someone who can think logically through the process and take the burden away from them. By taking on large organizing projects, you have an opportunity to greatly increase your earning potential!
However, I know a lot of professional organizers that will turn down large organizing projects because they don't know how to manage them well. By learning the skills and tools that are needed to successfully execute such projects, you will be able to take on these projects with confidence.
In this post, we are going to break down each of the seven steps required to successfully manage a large organizing project. From renovations to moves to downsizing, and with the right skills and planning you will be equipped to handle them all!
We will cover each of the following seven steps:
Step 1: Planning
Step 2: Budgeting
Step 3: Coordinating
Step 4: Scheduling
Step 5: Communicating
Step 6: Supervising
Step 7: Finalizing
In order to manage large organizing projects, you will need to excel at all of these areas.
Step 1: Planning
It is important to start your project with a plan. To create a plan you must make sure you factor in every aspect of project. Be sure you've asked the right questions in your consultation, so you know what your plan must include.
For example: If you are helping a client downsize, you must first understand what the client has, where they are coming from and where they are going to live.  Do they need help with decision-making on items to keep and give up?  Will other members of the family want items and will they be taking them promptly?  Will the client need a mover? There are limitless possibilities for what might be asked of you and no two situations are the same.
To create an effective plan, you'll need to map out the project from start to finish, detailing the activities, timeline and the resources and supplies needed. Start with a list of everything and everyone you'll need and map it out from there.
The plan should be written and available to all the players involved, including the client, so that everyone is on the same page and can refer to it throughout the project. You'll also want to fill everyone in on any sensitivities or specific needs that the client may have.
The plan may change as you go, so remember to always provide everyone with updates as changes are made.
Step 2: Budgeting

For large and complex organizing projects, clients will want to know the expected costs up front. If you are managing a large organizing project, you will certainly need to create a proposal or estimate for the client. In order to estimate the cost, you will need to create a budget.
Here are the three main things you'll need to factor in when creating a budget:
What does your time include? Are you just coordinating, are you going to be working onsite? You time can include any or all of the following: coordination, research, shopping, communication, supervising and hands-on organizing.
What are the other costs involved? Are you bringing in a team of organizers, will you need outside vendors (junk removal, handyman, movers, etc.)? Be sure to get specific quotes from your vendors. Also, make sure you have all the cost contingencies. For example, a dumpster may cost $300, but there is often an additional per-pound charge for disposal, as well as costs for disposing of items such as mattresses or TVs. Movers charge by the hour, but who is supplying the boxes?
How much of the project will the client be assisting with? Take into consideration any client resources (such as friends and family) for both labor and other services. You never know. We once had a client whose cousin owned a metal scrap yard and picked up everything for free!
Once you have the budget put together, you will need to:
Provide your client with a thorough breakdown of costs and review the budget with them before starting the project.
Get client to sign off on budget. This is important! You want to make sure they are clear on and agree to the costs upfront, so there are no surprises and no disappointment.
Follow these steps and you'll have an accurate budget for your organizing project!
Step 3: Coordinating

As the project manager, you're in charge of hiring and coordinating the contractors or vendors that you'll need to help you complete the project; this could include organizers, a junk removal service, movers, consignment shops, appraisers, estate sale experts, and a handyman or contractor.
You should be prepared with a list of preferred service providers in your area that you know and trust and work with regularly or exclusively. If you are just starting out, try to get recommendations from people you know.
When you are coordinating others, you need to make sure you are providing them with all of the details, including; client name, address, scheduled times, your contact information, dress code, supplies list, whether or not they need to bring lunch, and any pertinent information they may need. If your client has pets, make sure no one is allergic. On more than one occasion, I have had an organizer leave because their allergies were so bad! You will also make sure you share your project plan with everyone and update them as things change.
Especially if you are working on a project where the client or situation is sensitive, you'll want to make sure you set everyone's expectations in advance. If you have trusted organizers and vendors, then they may already have an understanding of the work you do. But, always fill everyone in on any specifics as well as the sensitivities or special needs that the client may have.
The success of a project plan relies on the people who execute it! Equip yourself with the leadership skills necessary to build a strong, committed team and guide them to the desired outcome.
Here is a list of service providers you may need for a large organizing project:
NAPO Organizers
Local Charities – Drop off locations and those that pick up
Junk Removal Services
Movers
Consignment Resources
Appraisers
Estate Sale/Auction Professionals
Handymen
Closet Designers
Home Stagers
Interior Decorators
Many of these service professionals may be a Corporate Associate Member of your local NAPO Chapter, so check there first to find qualified individuals.
And remember; make sure all of your vendors have the proper liability insurance. Request a Certificate of Insurance from them before they start working for you. Keep this permanently on file and get an updated version each year.
Step 4: Scheduling

Managing large organizing projects includes managing the schedules of everyone involved. This can include organizers, contractors, movers, and even the client!
Before you begin to schedule for this project make an outline of what you will need to do and who will need to be involved.
Next, you will need to line up the parts of the project that depend on others schedules. Check availability and make arrangements for the most important pieces of your project first. For example, get the move date scheduled with your moving company before you schedule the organizers to help unpack.
One of the most important parts of planning and managing projects is the timing and the order in which you schedule services. If you have ever had contracting work done in your own home, you realize there are certain things that have to happen before other things can be done.
Create a timeline
Include a project start date, end date and any fixed dates, such as a home closing date.
Get organized
Organize your activities list and put them in order of what needs to happen first. Some activities can happen simultaneously and you can make a note of that. But, get them in order.
Assign time
Assign a time frame to each activity. Will it take one day, six days, or an hour?
Assign a person
Assign a person or persons to each activity. For example: Will the organizers or movers being doing the packing? Who will be removing the trash or taking donations away?
Use a Gantt Chart or spreadsheet to put everything together. A Gantt chart is a useful ways of showing activities (tasks or events) displayed against time. On the left of the chart is a list of the activities and along the top is a suitable time scale. Each activity is represented by a bar; the position and length of the bar reflects the start date, duration and end date of the activity. This allows you to see at a glance:
What the various activities are
When each activity begins and ends
How long each activity is scheduled to last
Where activities overlap with other activities, and by how much
The start and end date of the whole project
To summarize, a Gantt chart shows you what has to be done (the activities) and when (the schedule). You can learn more about Gantt Charts online.
Once you have your schedule in place make sure you share it with everyone involved. You will also need to visit it daily and possible make changes as the project moves along.
Step 5: Communication

When you manage large organizing projects, good communication is critical to a successful project. To be a good project manager, you must be in constant communication with everyone involved in the project. This includes your organizing team, the client, any vendors or other service professionals.
Here are some tips to help you effectively communicate throughout your project.
Have a Plan
Create a plan for communicating. This can include; who is in charge of communicating, who needs to be communicated with, how often you will communicate, how you will communicate (phone, email, text), etc.
Check in Daily
Make sure you take few minutes at the end of each day to assess the situation and let the client and all team members know where the project is, any changes that have been made, and what is planned for the next day. Make sure to call or email anyone who wasn't present that day, but is involved in the project.
Listen
Communication goes both ways. Be sure to listen to what your client and your team members are saying and address any suggestions, concerns or issues that may arise.
Manage and Share Information
Make notes and update the plan as you go. This includes plan modifications, but also the gratifying crossing off of activities that are complete. Provide copies of the updated plan to everyone on a daily basis.
Post It
It is very helpful to post the plan on a wall in the space you are working. This way, all team members can refer to it as they progress. Also, by posting the plan and crossing off the activities that have been completed, the client can visually see the progress and get the feeling that things are getting done (even if it looks worse before it gets better).
You can also take posting to the next level and post the plan for each space on the wall of its room. It also helps to hang a sign in the doorway of each room, to indicate what that room is. Like, John's bedroom, or play room. This especially helps if you are doing a move and need to direct the movers as to where to put boxes.
With good communication, your project will run smoothly and efficiently and the client will feel confident that you are managing the project well.
Step 6: Supervising

In organizing project management there needs to be someone in charge. If you are the organizing project manager, guess what? That someone is you! People need someone to go to with questions, issues, etc. and sometimes just for some direction. You will need to be prepared to direct and supervise your team members, vendors and even the client throughout the entire project.
Here are some tips to help you be a great supervisor:
Know the Plan
You will need to know the project plan inside out in order to give direction and answer questions authoritatively. Make sure you also check your activity list daily to make sure you are on track and on time.
Monitor Performance
Keep comparing current progress and performance against the original plan. Don't relax control, even when all is going to plan. Get the team involved and ask them for ideas on speeding up progress or improving the process.
Lead Effectively
Be a manager whom people want to seek out, rather than avoid. Show your enthusiasm for the project, even when under pressure. Look for ways to use conflict constructively and show your team respect, and they will show it to you.
Overcome Problems
Look at every aspect of a problem before trying to resolve it and ask team members to bring you solutions as well as problems. Also, identify the cause of a problem to prevent it from happening again.
If you show yourself as a true team leader, supervising will be a snap.
Step 7: Finalizing (wrap it up and tie it with a bow)

Organizing project management doesn't just end when the organizing is over. Follow these steps to ensure the project has been done well and has been completed to the client's satisfaction.
Do a Walk-Through
Before you call the project done, walk through the space with the client and your plan to ensure that you have not left any jobs unfinished. Get their final approval before you consider the job complete. This should go smoothly and there shouldn't be anything left to do if you've been communicating well with them throughout the process.
Have the Space Professionally Cleaned
If this is not part of your project list, then add it! Organizing is one thing, but there is no sense in getting everything organized and put away nicely over a layer of dust! Make sure to bring in professional cleaners to go over everything once your organizing in complete. Your client may already have a cleaner, but you should definitely establish a connection with one in your areas.
Check-In
Check in with your team and other vendors and make sure everyone feels as though they did everything. Also check and make sure no one left anything at the job site. It's happens all the time, handymen leave tools, someone forgets their scarf. Don't leave any clutter behind for the client to deal with.
Pay and Get Paid
Make sure you provide your client with a final invoice and collect payment for the project. Also make sure you get invoices from all your vendors and time sheets from your staff members and pay everyone promptly.
Say "Thank You"!
Send your client a thank you note or gift once the project is complete. Flowers, a house plant or a food gift are nice things that won't clutter up their space. Or, perhaps you thought of something they would need or like while you were working with them. Don't forget to thank your team as well. They worked hard on this project and will appreciate the recognition.
Review the Project
After it is complete, take some time on your own to evaluate this project in order to better manage the next one. Keep notes of errors made and lessons learned for future reference.
Follow these seven steps and you'll be able to be a successful organizing project manager!
If you'd like to learn more about organizing project management, check out the following resources at Organizing U:
Organizing Project Management e-Course 
This course will teach you how to manage large organizing projects and greatly increase your income potential! $29
Complete Professional Organizer Forms Package
This package bundles 35 of our organizing business forms, templates and scripts to help you run your organizing business smoothly! A $350 value – only $97!